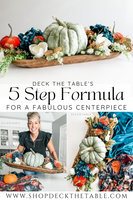 Don't miss my 5 Step Formula
for a beautiful centerpiece every time! You'll want to save this one! Follow us @deckthetable to see even more.
My 5 Step Centerpiece Formula
Rachael's fall Table looks curated just for you!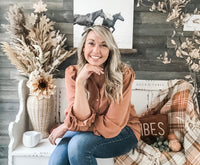 Tis the Season to Deck the Table!
Hi Yall!
I'm Rachael, creator of all things Deck the Table. Born, raised, & thriving in Texas, I can confirm that everything really is bigger here – including our take on entertaining, especially during the Holidays. We go big or well…that's really the only way we know how to do it. But going big doesn't have to bust the budget.  I believe the right combination of bargain and boutique finds along with a little can-do attitude can turn any ordinary space into something extraordinary.
From the windows to the walls – we Deck these halls, but my favorite space to Deck-orate is the table. Here you will find seasonal, and holiday looks curated by yours' truly with product links to make recreating them on your own table simple & fun. Join our Email List to stay up to date on all the latest!
XOXO, Rachael
SHOP: DECK THE TABLE
"This is the power of GATHERING:
IT INSPIRES US - DELIGHTFULLY - TO BE MORE HOPEFUL, MORE JOYFUL, MORE THOUGHTFUL: IN A WORD, MORE ALIVE."
- ALICE WATERS